The Cook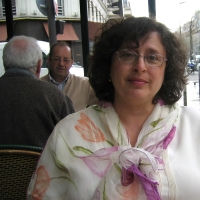 nightkitchen
Claremont, CA
Taste-o-Meter
People LOVE nightkitchen's recipes.
About Me
I used to be "pieplate", but Group Recipes decided, somehow, that I was no longer supposed to log on, or add recipes, or comment, or even get points for visits to my recipes. Well, I've had it with being out of the loop! I want
back in! Even if I have to sneak in through the back door under a new persona! So, now I am**nightkitchen**, looking for my old friends, tagging recipes, trying out new things. As I said earlier, I learned to cook in self-defense, I make pretty much everything from scratch and fresh ingredients, excepting chicken broth and canned tomatoes, I grow my own herbs, I can generally identify the ingredients and procedures and techniques in something I taste, and I love tinkering to be able to recreate the dish--even improve on it--myself.
Read more