The Cook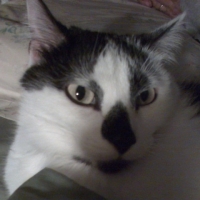 nkuklinski
Stevens Point, WI
Taste-o-Meter
People LOVE nkuklinski's recipes.
About Me
Hi to all my new Food Buddies, I am 36 years old. I am married for 16 years to a man who loves to eat. Looking at him you would think he never eats. He is such a great sport; he will try anything I make. Poor guy some days!! We
have 2 cat's Ernie & Colin (Happy). We also have a new friend, her name is Stella and she is a bunny.


I love to cook and bake. I really love to try new recipes. It doesn't matter if they are easy or hard. I love to challenge. I hope we will all have fun trying eachother new recipes!

Food Quote -
"Some people's food always tastes better than others, even if they are cooking the same dish at the same dinner. Now I will tell you why – because one person has more life in them – more fire, more vitality, more guts – than others. A person without these things can never make food taste right…" -Unknown

Read more
My Latest Recipes 18
Dilly Beans from nkuklinski in Stevens Point, WI.

These are great with Bloody Mary's or just by them self. Everyone around here loves when I bring them out for BonFires with a col...

Bread, bananas, banana liqueur, cream and pecans are the featured ingredients in this slowly baked pudding spiced with cinnamon....

BLT Dip from nkuklinski in Stevens Point, WI.

"This dip is a hit whether you serve it at a block party or a formal dinner party! It really tastes like a BLT. You can cut t...

This is such a great recipe. I forgot about it until my neice called and asked for it or her birthday. Everyoen enjoyed it!! I h...

Tropical Slaw from nkuklinski in Stevens Point, WI.

this is something that people woll look at like you are crazy until they eat it. Watch the raves you get!!!...

Crme Brle from nkuklinski in Stevens Point, WI.

Crème Brûlée is a simple, yet very elegant dessert. And very YUMMY!...