The Cook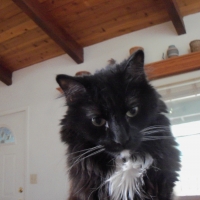 npmarie
Magalia, CA
Taste-o-Meter
People LOVE npmarie's recipes.
About Me
I live in a small town in the Northern California foothills with my husband and our 3 cats (including one who adopted us!). My husband & I love to cook and are always trying new recipes..Thanks for stopping by:)
My Latest Recipes 31
Lemon Sauce from NPMarie in Magalia, CA.

I'm posting this for easy reference the next time I make http://www.grouprecipes.com/138233/american-sponge-cake.html..this is my ...

A light & moist cake which is not too sweet and very flavorful...recipe courtesy of Joy of Baking.com....

We love a Quinoa Edamame Salad I buy at a local deli..so I decided to try to try to replicate it as best as I could so I could mak...

I made these for a Sunday football appetizer:) They were easy to put together, spicy and delicious! I found this recipe on Honey...

Pantry Pasta from NPMarie in Magalia, CA.

Adapted from "The Pioneer Woman". I loved the idea of making a wonderful pasta dish using pantry items you usually have...

I found this recipe at kayotickitchen.com and adapted it to my liking. This casserole is so flavorful! It's a bit spicy and the ...