The Cook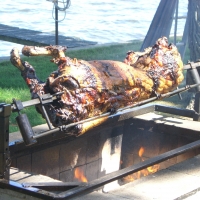 nuitblanche
Syracuse, NY
Taste-o-Meter
People LOVE nuitblanche's recipes.
About Me
I have a match made in heaven: my passion is cooking, and my husband loves to try anything new...and does this reallly cute MMM - WOW thing with each bite. Such a fabulous audience!
My Latest Recipes 29
I saw these beautiful peppers at the farmer's market, labeled as "sweet stuffers" and so took on the challenge! I knew c...

Chicken Marinade from nuitblanche in Syracuse, NY.

An easy make ahead dish; make up the marinade right in a gallon zip lock bag, drop in your chicken breasts, massage a little and t...

Tomato explosion in the garden! Nothing in the house to make for dinner, so I started hunting in the garden, pantry and fridge and...

First, this can be made with veal cutlets, but if you can find them, pork cutlets are far superior! More flavor, more tender and a...

Cruising the fridge for a simple lunch, I spied the last breaded chicken cutlet from a previous dinner (italian seasoned bread cru...

This is a easy and yummy dish from my neighbor - sadly she has treated it to us twice for recent funerals! But it is the Perfect C...