The Cook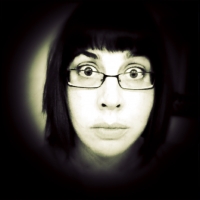 orangeramona
Denver, CO
Taste-o-Meter
orangeramona's recipes haven't caught on yet
About Me
I am an art student, though I am too old to be in school anymore. Printmaking is my thing. I have two chihuahua's; Cid and Iggi. I spend too much time with them. I cook as much as I can. Being from good peasant stock, I have been
a big girl most of my adult life, so I try to eat conscientiously, and cooking for myself is the best way to accomplish this. I will try almost anything at least once. I lean towards the vegetarian, though I have a great love of all things meaty. I will not do without butter, cream, bacon and sugar, though I eat less of them then I used to, and still more than I ought.
Read more
My Followers
My Latest Recipes 3
This simple, fresh, tangy tomato soup is made more substantial and creamier with the addition of earthy chickpeas. Made as is or ...

A simple side of couscous, green olives, sauteed onion and garlic with lemon zest and lemon juice for extra goodness. It's easy, s...

Extremely simple, very healthy protein rich pancake. Delicious sweet or savory....