The Cook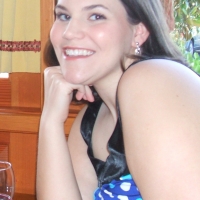 parrothead87
Boone, NC
Taste-o-Meter
People generally enjoy parrothead87's recipes.
About Me
My name's Laura K. and I'm a junior Hospitality major at Appalachian State University!!! I love to cook. Just got an apartment last year, so moving out of a dorm will help me a lot with that. Now I can cook whenever I want and not
just when I'm at home! I'm from Georgia but just got back from Jackson Hole for the summer where I got to try lots of new foods and am eager to recreate them. Other things about me: I'm a really huge Ron Paul supporter and Libertarian. Always busy with the political scene. I'm also a huge Parrothead (so I'm all about fish & seafood), total football fanatic...so proud to be part of the APPALACHIAN STATE DYNASTY!!! NATIONAL CHAMPIONS IN '05, '06, & '07 baby!!!! (And we beat Michigan!!!) But also my native Georgia Bulldogs!!! I am a golfer, a beginning skiier, I love to travel, go out with friends, head over heels in love with wine and am just overall in love with life. I have two Jack Russell mix puppies, Teton & Tahoe, who keep me busy. We will be trying out some homemade doggie treats soon, so I look forward to discovering some new recipes to share with y'all for pups!
Read more
My Latest Recipes 5
Thunder Cake from parrothead87 in Boone, NC.

This is one of my absolute favorite cake recipes! The recipe is taken from Patricia Polacco's children's book of the same name, &q...

I came up with this entree when I was doing Weight Watchers, so it won't ruin your diet! I make Cajun Lime Tilapia a lot and is on...

Only 4 Weight Watchers points per serving (when using 4 oz. fillets), and only 8 points if you eat a nice 8 oz. fillet serving. De...

Aqua Velva from parrothead87 in Boone, NC.

Recipe for a cool old-school cocktail I like....

These are some lactose-free (also vegan even though I'm not), yet still very rich & sooo delicious, chocolate brownies I conco...