The Cook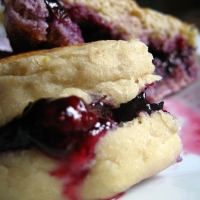 pinkpotter
Whitehouse Station, NJ
Taste-o-Meter
People generally enjoy pinkpotter's recipes.
About Me
Baking is my main passion! I love sweets and would choose sweet over savory any day! (:
I am very health-conscious so I bake low-fat goodies. So it's rather much more challenging than being able to create all those decadent cak
es and tarts full of butter & cream.

I am also an aspiring vegan. I think vegan cooking is extremely interesting. All those vegetables, soy, seitan, tempeh.

I love reading food blogs. I think they are a great source of recipes and great photos. One day, I would love to write my own food blog too- probably journaling my vegan and healthy baking adventures.

I need Asian food in my life as well! I grew up on it. I love sushi (not necessarily fish) and anything with rice.
Read more
My Latest Recipes 8
These cookies are so amazing! The flavor of the chocolate comes through so well and the almonds provides a nice extra crunch. Ea...

Deliciously rich and dark cocoa cookies that enclose a yummy peanut butter filling. These are a perfect balance of the famous pea...

Nutritional information for 1 cookie: 79 calories, 1.8 g fat, 0.1 g saturated fat, 0 g cholesterol, 70mg sodium, 51 mg potassium...

This recipe is adapted from Fat Free Vegan Kitchen with some tweaks here and there. These muffins require no added fat to make...

This is a well-balanced dish, full of protein from the TVP and vitamins from the veggies! Combined with a hearty brown rice blend ...

This is an amazingly simple dish to prepare! There is practically no prep work and all you have to do is nuke this baby for 4-5 mi...
My Groups