The Cook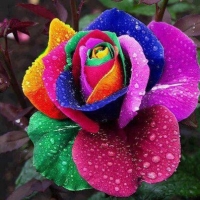 rainbowcookin
Brisbane, AU
Taste-o-Meter
People LOVE rainbowcookin's recipes.
About Me
GOD ALLOWS "U" TURNS! YAY! Love cooking with home-grown vegies + herbs, mostly vegetarian. Single mum who went the home-birth, home-school route. Lookin' for my prince charming in between cookin up a storm, lol - all
my recipes are served to my family. You know that song "Give me a home among the gum trees" well that is sorta how i want to be in 10-20 years time - go solar, grow vegies, have chickens, maybe goats, build my log cabin lol. ….aah dream on........"I think having land and not ruining it is the most beautiful art that anybody could ever want to own". Andy Warhol

APRIL 2013 UPDATE ….. I am now half way through a business degree and only have 2 teens for whom I am still responsible. The others all grew up!! Life is pretty good and we are all well here, A BIG shout out hello to so many people here whom I have not chatted to for ages, love and hugs to you all. ........Love and laughter, peace and joy to all xxxxxx ..............
Read more