The Cook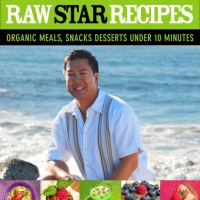 rawbryan
Manhattan Beach, CA
Taste-o-Meter
People generally enjoy rawbryan's recipes.
About Me
This is my exciting video sample from my new National RAW ORGANIC FOOD TV SHOW Series titled RAW IN TEN MINUTES with BRYAN AU based on my best selling raw organic recipe book with the same title. I will teach several Raw Organic R
ecipes and will be traveling around the World to feature Raw Eco Organic: Spas, restaurants, chefs, people, business and much more in exotic locations all around the World. More information will be posted on my Website: http://www.RawInTen.com and my raw organic recipe book, new instructional DVDs, each TV Episode on DVD, new Eco Organic Bamboo Clothing line is all available and can be purchased on my website: http://www.RawInTen.com

This is the First Raw Organic Food TV Show series in the World and on a national level so it is very exciting and making history. The Pilot Episode is me teaching new recipes from my raw organic recipe book RAW IN TEN MINUTES.

The main SERIES will be only a few recipes per episode then a Raw Eco Organic Variety Show where we combine Organic Eco Travel, Fashion and lifestyle. We want to empower people to become more healthy, eco, organic which will allow them to be happier while helping to save our environment and Planet.

I also want to thank my sponsor Blendtec Blenders as you can see they have the BEST BLENDERS in the world and you can see how well it performs and how easy/fun it is to use. It is the ONLY blender I will use and can highly recommend. Jamba Juice and Starbucks only uses them for example if you are interested I can get you a really good discount on them just e-mail me: RawBryan@hotmai.com

I want to thank http://www.EnergyMuse.com too, the Voice Necklace totally transformed my life, I can honestly say 100% that The Voice Necklace brought me more wealth, clarity, peace, if you Google.com "Carnelian Wealth" you will find a lot of info when I wore The Voice Necklace I experienced the most wealth and abundance, compliments, it was the best part of my entire life and career I got invited to do national TV Shows, Radio, everything came to me and I highly recommend The Voice from http://www.EnergyMuse.com it really works!:)
Read more
My Latest Recipes 1
This is a sample from my new National ECO Raw Organic Variety: Food/Fashion/Travel TV Show: RAW ORGANIC SAVING THE PLANET with Br...
My Groups