The Cook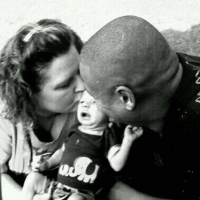 rodeogirl73
Tacoma, WA
Taste-o-Meter
People are ADDICTED to rodeogirl73's recipes!
About Me
You can find me on Facebook, link in Website section...
39 yrs old, a proud daughter of a Retired Firefighter (35 yrs, my father) & truck driver (50 yrs), & Retired State Employee (35 yrs, my mother), married to my wonde
rful husband for 17 yrs, we are expecting our first child in July '11, just 2 dogs(2 Pitbulls), 1 cat(6toes pyscho cat), 2 birds (1 macaw & 1 Quaker). I LOVE to cook varieties of food. In my spare time, I enjoy Hiking, biking, travel, camping, seadoo, skidoo, snowboarding, atv, 4x4, letterboxing, mountains, oceans, walking, animals, rodeo, horseback riding, cooking, rollerblading, boating, fishing, swimming, letterboxing, barrel racing, Endurance Riding, crafts, genealogy, scrapbooking, bowhunting/archery, hunting,etc.
My hubby is diabetic and I was diagnosed with type II in Sept '10, then Nov '10 found out pregnant, and now have gestional diabetes instead of type II, since being pregnant, I already have lost 30lbs due to eating habit change, not pregnancy related & baby's growing good. I also have collections of cookbooks, I NEVER have enough lol.
Read more
My Followers