The Cook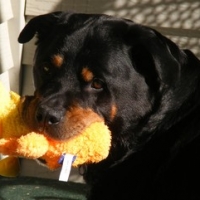 rottman
Nottingham, MD
Taste-o-Meter
People are ADDICTED to rottman's recipes!
About Me
Like most of you, I love to cook. The dish just depends on how I feel today. It might be something Chinese, or Italian, or I may have a craving for a category of foods, like seafood. I try to sample a different recipe each time
, with few repeats. Life is too short to be going back over old territory.

I also use cooking as a way to unwind after a days work. Pour a glass of dark beer and begin preparations, taking as much time as needed.

My other loves are kayaking and my puppers. Most of my free-time is spent planning next weeks trip, somewhere out on the Chesapeake. Then, for one fabulous day, I get out and do a paddle. It's getting close to Fall now, the best time of the year to explore the small islands, inlets of the Chesapeake and it's harbor towns. A good day on the water leaves me craving a nice seafood dish of some sort, and cup of hot, steaming coffee.

My two best friends are my Rottweilers; Riggs and Lexus. One of the photos is Riggs soaking up some summer rays. Lexus is seen in one of the other photos below. They love sampling my recipes, and somewhat surprisingly, also love fish and apple pie (no... not together).
Read more