The Cook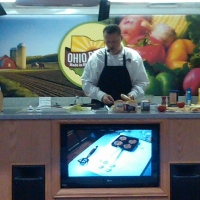 salsagreg
Bowling Green, OH
Taste-o-Meter
People LOVE salsagreg's recipes.
About Me
Check out this new item that my wife and I came up with and let me know what you think. If you like the idea, pass it on! http://www.quirky.com/ideations/121813
Love to share with people my cooking with salsa secrets. Was fortuna
te to cook in front of a large crowd at the Cleveland Fabulous Food Show (as seen here). What a blast! Love to go to football games and tailgate with my family while munching on Stadium Salsa and tortilla chips! Stadium Salsa is a small salsa company that my wife and I started a few years ago. We currently have developed nine various salsas/dips right from our very own kitchen. Talk about from "Kitchen to marketplace!" What a rollercoaster ride it has been! We try to incorporate at least one of our salsas/dips in to each dinner recipe that we create. It is amazing how salsa will magnify the taste of whatever it is that you are cooking! Especially our Stadium Salsa! We hope that you love our recipes as much as we do. They come from our passion in the kitchen and from our hearts!
Read more