The Cook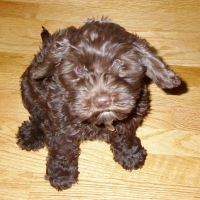 scotslass
Lexington, MA
Taste-o-Meter
People generally enjoy scotslass's recipes.
About Me
Hello!
Born in Scotland, moved to the US 10 years ago. Had the opportunity to travel B.C. (before children) which influenced my palate ( Vietnam, Cuba, Hong Kong,Croatia, Kenya........but, ironically, never India) The Brit. in m
e loves Indian food but I love anything with a kick.
I fly by the seat of my pants when I cook as I am too lazy to measure or document properly and also have a tendency to mix and match metric and imperial measurements-so beware if you are following my recipes! My husband, an organic chemist by training, is shaking his head at that confession.
I worked as a Dietitian in the UK but enjoy food too much to be hampered by the "good nutrition" of it!
And, I have eaten haggis.

Read more
My Followers
My Latest Recipes 3
We discovered my 18 month old did not have a nut or seafood allergy after (unbeknown to us) consuming a skewer of these! The waln...

This white pizza is easy to prepare as you can use a pre-made base and cook on the grill. I like to add a shot of fish sauce to th...

Goan Beef Curry from scotslass in Lexington, MA.

Not a typical Indian curry as it uses beef and coconut milk. Don't let the long list of spices put you off. This could be a useful...