The Cook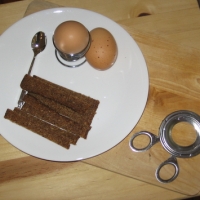 scrumptious
San Francisco
Taste-o-Meter
People generally enjoy scrumptious's recipes.
About Me
I read cookbooks in bed like novels and take dates to the all-night supermarket. I love to travel and all my trips end up being mostly about people and food. My home cooking is mainly influenced by Asian and local California fla
vors and ingredients. I've been a vegetarian since I was 15, and these days a lot of my cooking leans all the way into vegan. I spent a year as my mother's macrobiotic cook when she had cancer and I am fascinated by food-as-medicine and the many ways in which food influences health. I am gluten-sensitive, but I love to bake so much I think it will be a while before I'm ready for a gluten-free lifestyle. My food-attention these days is focused in two main areas: Simplicity (maybe not a four-course, three-hour, use every pot in the house meal every night) and Local (I am gearing up to try a period of time eating only local food). I'm also recently injured in both arms and wrists, and recovery is not on the near horizon, so there may be big changes in how I can cook, which is a challenge I'm both scared and excited to meet.
Read more