The Cook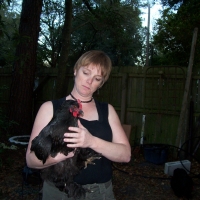 shai
Gainesville, FL
Taste-o-Meter
People generally enjoy shai's recipes.
About Me
I am a single mom. My son is 15 and we are a team. He just got his learners permit, so I have that big fun chapter in life going on too!
It is a challenge sometimes to cook for just two, as I prefer to cook for 10! My son
does not like spicy foods, so much of what I cook gets additionally seasoned at the table.

I grew up in rural WV, so country cooking was a big part of my early years. We canned and froze what we grew, slaughtered our own meat, and lived close to the land. My years as an adult since leaving there have been widely varied and have included time in cities, towns, and exposure to many other cultures. I love to eat the foods that people eat in other places.

I love to bake, and used to only do so in the winter as the heat is overbearing here in FL, but now I have a BREAD MACHINE! In the summer I make lots of salads, pasta salads, quick meals, and cold desserts. When we have stews or roasts or such it gets done in the crock pot. During the winter I make baked stuff nearly every day, though and it is fun and WARM!
Read more
My Followers