The Cook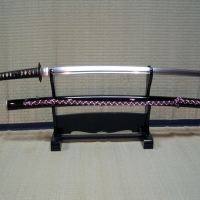 shibattou
Fort Mohave, AZ.
Taste-o-Meter
People are ADDICTED to shibattou's recipes!
About Me
To My Wife, Rosemary:
With love in our hearts, a light in your eyes, and hours of soft conversation and laughter. You always loved my cooking. May these recipes provide as much pleasure to all who try them.
About me;
I'm a
retired Detective (C.S.I.) - (Latent Prints) who left Southern California for the quite desert of North-Western Arizona. I like to BBQ in the back yard while I have a Bud, listen to "Jolie Blon" and feed the neighborhood roadrunner. When I get lazy there are always the buffets (and slots) in the casinos across the river. I don't cook as much now as when I was married. A lot of my recipes just don't work well for one person servings. But I would like to share a few of them with all of you. Hope you enjoy one or two. And if you are just starting out, don't get discouraged, even though sometimes things go wrong. One time, I had just finished seasoning some chicken pieces for dinner. I had placed them on a tray and set them on the kitchen counter. As I washed my hands, there was a very loud "BANG" and everything turned into a thick, white, fog. The top of a small, dry powder, fire extinguisher I had mounted in the corner had somehow broken off and the result was a heavy dusting of powder all over the chicken, me, (and my now snow white face and hair) and almost everything else in my apartment. It took me days to clean it up.
Read more