The Cook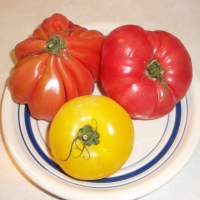 slj6lori
Succasunna, NJ
Taste-o-Meter
People LOVE slj6lori's recipes.
About Me
Just love to cook, experiment, and feed my family and friends. Everyone calls me a feeder. I love when people eat my food and they are happy! That makes me happy.
My Latest Recipes 23
Crumb Cake from slj6lori in Succasunna, NJ.

A delicious and easy way to make crumb cake....loaded with thick crumbs and powdered sugar, this recipe is great for a brunch or a...

A different twist on chili as you use beef cubes instead of ground beef. The slow cooker ensures that the meat will be very tender...

This soup is warm and comforting. My family really loves this one and it is a great way to get veggies into the kiddos. A blended...

I am a Quinoa fanatic! I just love this versitile grain...so healthy for you and lots of different ways to prepare it. I just thre...

Spinach Balls from slj6lori in Succasunna, NJ.

This recipe is always a hit for any occasion. People just flock to these flavorful little spinach balls. Easy to prepare and the p...

Figgy Bars from slj6lori in Succasunna, NJ.

I found this recipe in a Good Housekeeping magazine....I made these last year at Christmas for my Dad who just loves figs. This i...
My Groups