The Cook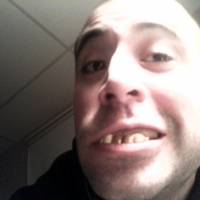 spicy_ty_chicken
West Middlesex, PA
Taste-o-Meter
People generally enjoy spicy_ty_chicken's recipes.
About Me
Hello everyone at my new favorite website!
Its great ain't it! I love food friends!
My name Ty and i'm an alcoholic. NO, im just kidding, though some may agree with that statement. Well lets just say no need to be shy with
the drink recipes LOL!
Ok my name is Ty and i am not a cook at all but i love to get the grub on. i am almost 30 years of age and have been single for quite some time now so when im not eatting out i gotta cook for myself. I can currently make some pretty mean toast and i've become pretty good at whippin together a very awesome bowl of breakfast cereal. So lately the take out and the very limited culinary skill just havent been keeping the tummy satisfied. Now with all these delicious ricipes i think my stomach will be very content. Im ready to make some fun new cooking friends and get some great recipes so join my friend thing and we can do some networking. Oh yea lets keep the calories down. I am single and just not ready to wrap the old spare tire around my waist yet.
Read more
My Latest Recipes 3
egg and chips from spicy_ty_chicken in West Middlesex, PA.

get out the old beatles records...

the push-up pop from spicy_ty_chicken in West Middlesex, PA.

stumbled upon this a few years ago at my favorite pub. reminded me of those old push-up pops i used to eat in the day...

beans on toast from spicy_ty_chicken in West Middlesex, PA.

beaners on toast...