The Cook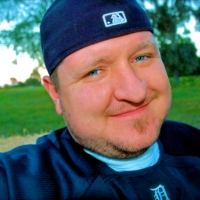 stephenwhite78
Melrose, U.S.
Taste-o-Meter
stephenwhite78's recipes haven't caught on yet
About Me
Greetings, I am a passionate foodie originally from Detroit, MI. I love cooking and I am looking forward to sharing and trying many recipes. Currently, I am on a quest to find the best Coney Island Chili Sauce that authentically t
astes like Detroit's version. I'm close, but not quite there.
Read more
My Latest Recipes 3
Marinate overnight, stuff and grill. AMAZING RECIPE...

Authentic lebanese Hummus from an old woman that speaks broken english, and was born in Lebanon. Having Lebanese neighbors in Detr...

Looking for that perfectly balanced pizza dough? Look no further! After trying literally tons of recipes, we have a winner. Crunch...