The Cook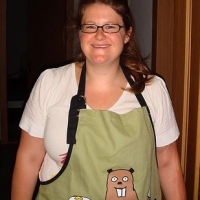 tablespoons
Solothurn, CH
Taste-o-Meter
People generally enjoy tablespoons's recipes.
About Me
I'm an American who's been living in Switzerland and Germany for years, desperately trying to show that American cooking is not just hamburgers! As my friends have been feeding me Rösti, Raclette, Bundnerfleisch, and Salzis I've
been showing them how to bake up some mean cupcakes, (southern) biscuits, and pies. A farmer's market right down the street keeps me supplied with weird imported Italian vegetables that I've never seen before.

I don't have a whole lot of standard recipes (aside from a mean Thanksgiving turkey) since I like to try new things, especially Asian recipes. My favorite cookbook is Cookwise by Shirley O. Corriher, not only because of the great recipes, but because she explains all the workings behind them.

One of these days, I'd love to develop a barbecue sauce recipe, since that's one thing you just can't get over here. Or learn to make Cau Lao, which I had in Vietnam. Or figure out how to make some paneer, my new favorite Indian dish.
Read more
My Followers