The Cook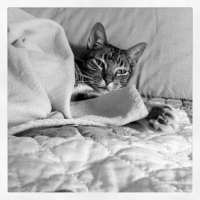 tatereater75
Farmersville, TX
Taste-o-Meter
People generally enjoy tatereater75's recipes.
About Me
I started this journey in syracuse ny. my folks moved us to a small town in TX when I was 5. I moved to Dallas as a teenager and the world opened up. I have enjoyed everything from 5 star dining down to greasy spoon diners. I lov
e making new dishes and baking from scratch. I currently live in another small town and am loving it although it. It isnhardnattimes to not have many restaurants available so coming up with new meals is a struggle. That's when I turn to the world wide web for new ideas and group recipes is one of my favorite places to surf!
Read more
My Latest Recipes 4
Prolly something my mom would've made had she know other than LONG JOHN'S! I took some in house things & mixed them up...

A fun tuna dish to try out with kids. Great side dish that's also great the next day with a light salad...

Fat Butt Taters from tatereater75 in Farmersville, TX.

This is a pass-down from my cousin I have made it all my own by adding some optional ingredients. If this dish is not eaten the fi...

Yum-Yum Chicken from tatereater75 in Farmersville, TX.

This was passed down from my husbends grandmother. Super easy and feeds a good group always better the next day...