The Cook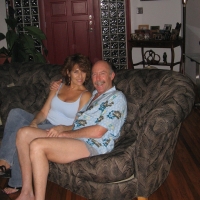 texyjay
Hollywood, FL
Taste-o-Meter
People LOVE texyjay's recipes.
About Me
I live in a subtropical paradise with my husband and would rather be home cooking and eating with our dog and cat (both rescues) than almost anything else in the world. In fact, it's difficult for us to get out the house! We enj
oy entertaining on occasion and we work out alot so naturally we need to refuel. Eating & drinking are favorite pastimes of ours although we try to eat as healthy as possible without sacrificing taste. I have switched to vegan recently & my husband is primarily vegetarian. We love my almond, tahini date balls and eat lots of bean soups, salads, brown rice, quinoa, lots of veggies, tofu, stuffed eggplants & zucchinis & (my fav) sprouted wheat pizzas on the grill or pizza stone (without cheese). I've discovered some yummy vegan & raw food dishes and have cut out most processed foods. No sugar, dairy or white stuff for me ~ and I feel great!
Read more