The Cook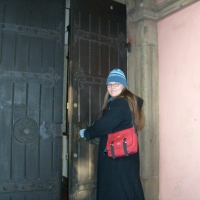 that1girl
Chandler, AZ
Taste-o-Meter
that1girl's recipes haven't caught on yet
About Me
It's probably easier to ask me what food I DON'T like because that's a much shorter list. I've recently (about a year ago) decided to go vegetarian. I will try a bite of something with meat if it's different but only to have the
experience of the taste. I pouted tonight because I thought my roommate was going to make a mexican bake with ground beef. He did. But also one without just for me :) I consider myself a beginner cook because I haven't had the funds to buy the ingredients I need to try more difficult recipes. However, what I do cook is usually very good! Not my words... they belong to my fiance and roommates. I just love the art of bringing different flavors together to make eating experiences. To me, cooking isn't about putting food on a plate. It's about providing a taste experience. It's exciting! I just wish I had the funds and skill to accomplish that at every meal!

And I can't forget to tell you that I have two kitties. You can't know me without knowing that!
Read more
My Latest Recipes 1
I love this sandwich! It's really easy and fast to make. It's filling and goes great with a small salad. I made this the first ...
My Groups