The Cook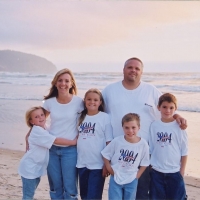 themechams
Las Vegas, NV
Taste-o-Meter
People generally enjoy themechams's recipes.
About Me
I am the mother of four in a blended family. We each came with two! I taught school for 12 years before I resigned to be home with our brood but recently went back working part time at the school three of my 4 kids attend. I te
ach one section of foods and nutrition to a great group of 8th graders who are excited about cooking! I grew up in Massachusetts just south of Boston. My parents both cook, so I grew up in the kitchen. My youngest daughter takes after me. Just this week she prepared a yummy pasta dish with a cheese sauce that she started from a rue and added three types of cheese to get just the flavor she wanted. She grilled up some chicken and paired it with a salad. (and she cleaned up) How lucky am I? I am excited to share recipes here and make some new friends!
Read more