The Cook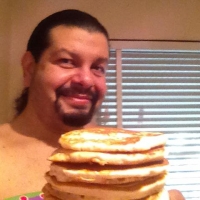 thenewagecook
Miami, FL
Taste-o-Meter
People are ADDICTED to thenewagecook's recipes!
About Me
Welcome to my food page !!!
I love cooking and I love GOOD FOOD !!!
I moved from Puerto Rico to Miami in 2003 and so far, I like it here.
There's way too much good food from each and every corner of the world here in Miami.

Although I constantly dream about living in the Northern U.S. as I am always looking for calm, peace and a nice quiet spot on Earth for me and my MUSIC also.
I really enjoy cooking and entertaining my friends at home.
My favorite foods are Puerto Rican, Southern, Cajun, Indian, Vegetarian, Chinese, Ethiopian and Thai.
Enjoy your visit to my place and feel free to ask, suggest or just say HELLO !!!
Read more