The Cook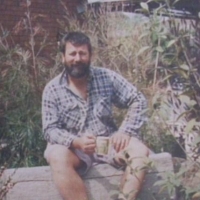 trev
Bogangar, AU
Taste-o-Meter
People LOVE trev's recipes.
About Me
I love cooking. I really like to prepare heaps and heaps of food. I reckon that I can cook fairly well, but I am still known to be able to produce something that is, well, a little less palatable, shall we say. When I'm in a coo
king frenzy, I like to cover the kitchen benches with vegetables, pots, my favourite cast iron pans, bowls, and whatever else I can find.

I have a really cool set of knives that my son gave me. They're shiny stainless steel things, that any chef would like to own. I must say, they make me feel like a real chef when I stop to look at them glistening in the sunlight, coming through the kitchen window. I like to stand and admire them on occasions, while anticipating a cooking frenzy. Then, when I can not resist the urge to touch them any longer, I whorl them around and sharpen them on my steel, until I feel the adrenaline start to pump hard. Then it's off into kitchen heaven to chop 'n' peel all that I can find.

Anyhow, while I have so much fun preparing and cooking food, I will continue to do just that. On the occasions that I get something just right, I get a really warm fuzzy feeling inside my head, particularly when I hear people talking about what a great cook I am. It just does wonders for my head size, sometimes doubling and even the chest pumps out a little, something like a rooster. At times, I feel that it is necessary to do the strut and the occasional crow, when I'm on a roll.

Well, I'll finish this little rave afterwards, as I'm off to do a bit more cooking. I'll be back soon.
Read more
My Latest Recipes 11
To all my friends, followers and fellow chiefs extraordinaires. I hope that you all have a great Christmas, with lots of good time...

This curry recipe is my collective interpretation of many versions of curry powders that I have played with. After a few attempts ...

These go with any main dish or as a snack food. A large tray of crumbed mushrooms are easy to knock together and are devoured in q...

This recipe is for a large batch of food for about 10 to 12 people. The objective of this recipe is to provide a plate of tender, ...

Measurement conversion table to assist with converting my metric recipes to American equivalents...

This dish is sufficient to feed about ten or more people, if served with other food. It is a rich sweet curry of extreme indulgenc...
My Groups