The Cook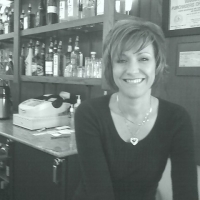 tsehnert
Lincoln, NE
Taste-o-Meter
People LOVE tsehnert's recipes.
About Me
Hi everyone. I turned the big 40 this year! They say it's the new 30 though so I am okay with this:) I have a son, he turns 16 this year. I'm nervous about that! I have two puppies, a maltese and a yorkie. I am a huge Cowboy's fan
. I graduated from culinary school in 2002. I have an associates degree in Culinary Arts/Hospitality Management. I love to cook and EAT!!! I like to experiment so I have alot of original recipes. I just need to measure amounts so I can print them:) I have been in the restaurant biz. for 20 years. I got tired of working for others and I decided to start my own catering business, Platinum Palate Catering. I did this until late last year and had to stop for awhile because our tile business was booming. I really miss it. This site brings me back in touch with my passion. I hope to get to know alot of you and I hope you enjoy my recipes. I know I have enjoyed finding new recipes on here!!! God bless!
Read more