The Cook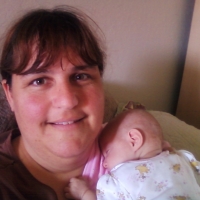 twilightdawning
Lancaster, CA
Taste-o-Meter
People LOVE twilightdawning's recipes.
About Me
The picture on my profile is me with my niece. She was born in April 2008 at only 31 weeks gestation by an emergency C-section because her mom's blood pressure kept spiking above 200. She was only 2 pounds 11.5 ounces at birth.
In this picture, she was about 3-1/2 months old and still only weighed about 7-1/2 pounds, but she's doing fabulous!

I am a single mom of two girls, ages 12 and 9. They both love to cook just about as much as I do, and my 12-year-old is getting really good at it! She likes to try out new recipes as often as I'll let her...and I let her do it often, because that means I don't have to cook dinner!

We are owned by a Greenwing Macaw, one cockatiel, one Shiba Inu dog, six cats, two hermit crabs, a chinchilla, two rats, and a male and a female beta fish.
Read more
My Latest Recipes 5
I have made several friends on the Recipe Exchange at AllRecipes.com. One of them posted a request asking other members to each su...

I found this recipe in a magazine while sitting in the doctor's office waiting room. It is one of our favorite ways to cook fish....

My twist on the Salsa Con Queso sold in the chip aisle that costs $3.00 for a tiny jar!...

Mexican Sloppy Joes from twilightdawning in Lancaster, CA.

Another experiment that my daughter and I came up with together for dinner last night. This gives Sloppy Joes a whole new image!...

I needed to make dinner in a hurry one cold evening when I didn't have much on hand, so I came up with this spicy, flavorful soup....
My Groups