The Cook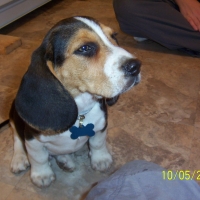 tziemba
Pittsburgh, PA
Taste-o-Meter
People LOVE tziemba's recipes.
About Me
I am soon to be turning 30 :( :( from Pittsburgh PA...Engaged to the most wonderful man ever with whom i absolutely love to cook for. I love to cook and try new recipes. I try to make all my meals from scratch pretty much...altho
ugh I still do "cheat" sometimes when we need a meal in a hurry. My fiance, Chris, loves this experimental phase I am going thru, although i really do not think it is a phase. I think about cooking all the time and ways to do things, what new recipes i want to try.

I am still in search of an authentic spaghetti sauce. Many, many years ago an italian lady worked with my mom and her mom made this sauce for my mom and i that was just to die for. I can still remember the taste, but i have yet to taste anything like it. She made her own noodles for me, butterflies and other shapes, So i am guessing her sauce had to be made with homegrown tomatoes, but i am unsure. I know she didnt speak much english, except to say EAT, EAT! If you know of a recipe, please please share.

I still have so much to learn in the cooking world, so I am sure I will be asking all my foodie friends lots of questions :). Enjoy the posted recipes!
Read more