The Cook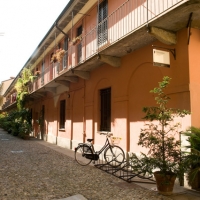 uk2nyc
Milano, Italy, IT
Taste-o-Meter
People are ADDICTED to uk2nyc's recipes!
About Me
Indian and Portuguese mutt, who was raised in India, London and NYC now I live in Milan, Italy not too far from the Ligurian Sea. I love to cook... travel and am a voracious reader. Hmm what else..yeah i love to garden as well as
scuba and sail. I have some pics on here. My tiny tiny kitchen. The previous owner had a terrible taste for colors and we have to change the cabinets soon. Also there are pics of our garden and the ligurian sea as well as some pics of Milan. We live on the Navigli, which were canals designed by Leonardo Da Vinci. Our courtyard building is about 300 yrs old, and was a cheese factory back in the 18th and 19th century. CLICK THE OVERVIEW BUTTON to see more thumbnails.
Read more