The Cook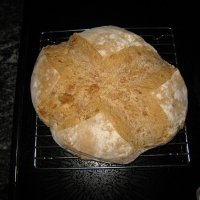 vikirose13
Habo Sweden, SE
Taste-o-Meter
People LOVE vikirose13's recipes.
About Me
Love to try new recipes and flavor combinations.
Mexican and Italian are favorite areas.
Really prefer fresh local produce. But living in Sweden means that it is necessary to buy the imported veggies like avocado, fruits, aspar
agus, etc. Cooking from scratch as much as possible. Whole grain flour like spelt, even in cookies, tastes better to me, not to mention the health benefits.
Other hobbies include making porcelain and cloth dolls where I even make the wigs, shoes and accessories. Sewing clothes and other items also gives me pleasure. Next comes gardening, which mostly includes the flowers and bushes. It is such a short season for veggies here in Sweden. However, we do have apples and plums. Planted an apricot on the south wall. We'll see if it bears any fruit. Have an artichoke that is flowering now, as well as a fig in a big pot. The tree is covered with fruit.
Its companion is a Meyer lemon in full bloom. It is not California, but I get a little taste now and then. Happy cookin'!
Read more