The Cook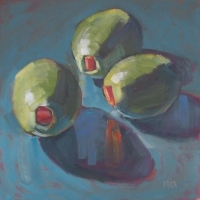 vin
Chesapeake, VA
Taste-o-Meter
People generally enjoy vin's recipes.
About Me
I have some basic ideologies/philosophies driving my interest in food. I am on this quest to create a most unique, esoteric, exotic and healthy cuisine from my many years and tears of cooking experience. I started cooking in resta
urants at the ripe old age of 17. I am now fifty and self employed while working on my cuisine ideas for a next restaurant. I also believe that food is a Basic Human Right... So, I also look for ways to make recipes exotic yet inexpensive and healthy. In this way healthy exotic nutrition is available to all regardless of personal wealth. This is a tall order. Please share your ideas with me, I love to chat about food.
Read more
My Latest Recipes 3
A wonderful medley of flavors as the sweet Fennel flavor counterpoints both the classic bitter of the Dandelions and the warm arom...

I'm sitting in our hotel room now adding this recipe. We spend weeks on the road in our family business. A road warrior simply mus...

In summer, we are all usually together as a family. Many of us like a little morning eye-opener. I found a refreshing new twist on...