The Cook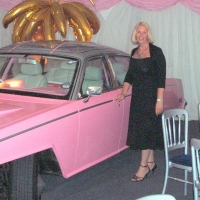 vivian
Stoke-on-Trent, GB
Taste-o-Meter
People are ADDICTED to vivian's recipes!
About Me
I live in Staffordshire England, I am 63. We have a lovely bungalow in the country side with great views in all directions. I am married to Robert my husband of 35 years. We have two beautiful daughters and an even beautiful gran
ddaughter. Our daughters are 33 and 26 our granddaughter is 9.

I love it when we are all together especially at Christmas and we all sit down to a meal, They both have their own homes now so it doesn't happen that often now. I love to cook so much and since the girls have flown the coop it is mostly for my husband and friends.

Once a year I get to make my granddaughters birthday cake and its a different challenge each time, one example was Sponge Bob (See photo) then I make Christmas cakes for all my family. I do enjoy making cakes the most but I will try any recipe that I take a liking to.

Read more