The Cook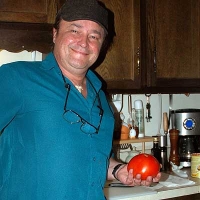 webdude
Plymouth, NH
Taste-o-Meter
webdude's recipes haven't caught on yet
About Me
My Italian side (Pascarelli) were unbelievable cooks. My Mother (from Uruguay) learned to cook from them and I was always in the Kitchen with her for tasty treats and to help. Our thought has always been that anyone can eat like a
King, you just have to learn how to cook.

I prefer simple, original recipes without a lot of fancy ingredients. Too often, "fusion" style of cooking and modern cooks add a lot of fancy ingredients to make it sound great, but, it doesn't always mean it's great. In Italian cooking, my favoriate style, simplicity, great ingredients, and balance is the key. As my great Aunt May would say, all the kids on the playground need to play together and get along.

I have taught my wife and three daughters this philosophy and have shared it with many friends. Learn to cook the basics well. A great meal can be found in any kitchen. Use what you have and put love into everything.

Currently, I own a graphic design/web development compnay (since 1989) and before that, I was a photographer, photo lab manager and have even taught photography.

I hope my additions here help.
Read more