The Cook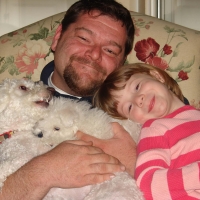 whatscookinmama
Vineland, NJ
Taste-o-Meter
People LOVE whatscookinmama's recipes.
About Me
I am a happily married mother of one, my daughter Zoe is six and is finally getting over those picky eating years and trying new things. My husband is the perfect man to cook for. He loves food and enjoys trying the new things I m
ake. Our family favorites are Spiced Pork, Chicken Sorrento, Quesadillas, Chicken Pot Pie (the thick noodle variety), and definitely Chicken Parm. I've been on the South Beach Diet for about four months and have adapted my recipes to the new way of eating so I'll mark my recipes with an SBD if it's the variation.
Read more
My Latest Recipes 1
Made this for my husband and myself the other night. Simple, satisfying, delicious, and romantic. Pulled it off (the recipe) in ab...