The Cook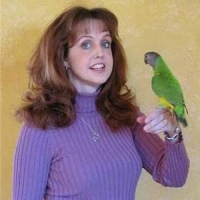 wonderland_tina
Dixon, KY
Taste-o-Meter
People generally enjoy wonderland_tina's recipes.
About Me
I love to eat and I love to cook, I just hate doing dishes. :) I'm something of a pesco-vegetarian who's lacto-intolorant; in other words, I don't eat meat or dairy, but do eat eggs and seafood, and goat cheese (recently found
out it won't hurt my tummy, so I'm packing it away and lovin' it). I still love all kinds of recipes, though, and just substitute stuff so that it will work for me. And no I'm not a tree huggin' weirdo....for the most part. :)

I LOVE spicy food, the hotter the better, all kinds of foreign cuisine, especially Italian and Indian. I like making homemade bread, pet treats, and all kinds of desserts. Wine and beer are good for drinking, and I like cook with 'em, too.

I'm married, have three kids, dogs, birds, a bunny, and farm animals including 3 little goats and a goose. I'm always up to some ridiculous nonsense, so you'll never know what I'm gonna come up with. :)
Read more
My Latest Recipes 3
Pan Bagnet from wonderland_tina in Dixon, KY.

This tuna sub sandwich is a family favorite, prepared ahead of time of busy days and ready when we come in for dinner. The recipe...

This is a Southern classic, delicious served still warm from the oven as it is cold the next day, if any is left! This is my versi...

I just came up with this dish, since I had leftover coconut milk on hand. I love how the sweet coconut tastes with little bits of...