The Cook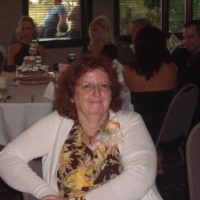 zanna
MOUNT CLEMENS, MI
Taste-o-Meter
People LOVE zanna's recipes.
About Me
I have a great and loving daughter and grandson. I work in downtown MT. Clemens at a vision shop. I have been cooking since I was a kid. Like to share good times...like to be forgetful of bad ones. At least I try.lol I talk to m
y plants! Sometimes they dont listen, sometimes they do. I have a married daughter...Crinthia and a grandson...Dalton. Since I now cook for one; I look for easier and fast recipes and also family size recipes for weekends , when friends and family drop in. Love to read-anything -everything ..books, labels, poems, old notes to myself,lol. Wish I could say I was a good gardener,but I am not. More busy than I should be,I think too much, dont sleep enough. OF course I love to cook,but some days I just would rather not to. Calgon -take me away.lol I love touching old things...wondering who had it ,use it, read it,enjoyed it. Yes, I am a tree hugger,a rainbow watcher but not a dreamer. I been around the block a few times. MOTTO... Life isn't always easy, but its the one you living... so try to make the best of it. Love cookbooks, good food ,family and friends......

Wishing you a rainbow
For sunlight after showers—
Miles and miles of Irish smiles
For golden happy hours—
Shamrocks at your doorway
For luck and laughter too,
And a host of friends that never ends
Each day your whole life through!
Read more
My Latest Recipes 19
Don't have to snow to enjoy these. If you luv Bailey's and white chocolate (who dont?)....This is the truffle for you! (From a Ba...

A simple recipe that cooks up in the microwave all by itself in about 20 minutes. You can add different ingredients to the basic ...

Wagon Trail Dip from zanna in MOUNT CLEMENS, MI.

A zesty dip made with old stand-bys...PORK and BEANS and process cheese spead(Velveeta). If you like these you will luv this di...

Baked(can be grilled) fish with yogurt sauce. Served with a zesty bean salsa as an added boost to flavor. Easy, low cal, high prot...

A good vegetable side dish of artichokes, spinach,mushrooms in a creamy garlic cheese sauce....

REFRESHING LEMONLY HERB DRINK THAT CAN BE MADE EITHER Alcoholic non-alcoholic (both ways are good) Have to have chill time to brin...