How to make it
---
Note: A serving of profiteroles consists of three baked puffs filled with ice cream and topped with sauce. This recipe makes 24 puffs, technically enough to serve 8, but inevitably a few bake up too awkwardly shaped to serve to guests.
1. Adjust oven rack to middle position and heat oven to 425 degrees. Spray large (12-by 18-inch) baking sheet with nonstick cooking spray and line with parchment paper; set aside. Beat eggs and egg white in measuring cup or small bowl; you should have 1/2 cup (discard excess). Set aside.
2. Bring butter, milk, water, sugar, and salt to boil in small saucepan over medium heat, stirring once or twice. When mixture reaches full boil (butter should be fully melted), immediately remove saucepan from heat and stir in flour with heatproof spatula or wooden spoon until combined and mixture clears sides of pan. Return saucepan to low heat and cook, stirring constantly, using smearing motion, for 3 minutes, until mixture is slightly shiny with wet-sand appearance and tiny beads of fat appear on bottom of saucepan (temperature of paste should register 175 to 180 degrees on instant-read thermometer).
3. Immediately transfer mixture to food processor and process with feed tube open for 10 seconds to cool slightly. With machine running, gradually add eggs in steady stream. When all eggs have been added, scrape down sides of bowl, then process for 30 seconds until smooth, thick, sticky paste forms. (If not using immediately, transfer paste to medium bowl, cover surface flush with sheet of plastic wrap sprayed lightly with nonstick cooking spray, and store at room temperature for up to 2 hours.)
4. Fold down top 3 or 4 inches of 14- or 16-inch pastry bag fitted with 1/2-inch plain tip to form a cuff. Hold bag open with one hand in cuff and fill bag with paste. Unfold cuff, lay bag on work surface, and, using hands or bench scraper, push paste into lower portion of pastry bag. Twist top of bag and pipe paste into 1 1/4- to 1 1/2-inch mounds on prepared baking sheet, spacing them about 1 to 1 1/4 inches apart (you should be able to fit about 24 mounds on baking sheet).
5. Use back of teaspoon dipped in bowl of cold water to smooth shape and surface of piped mounds. Bake 15 minutes (do not open oven door), then reduce oven temperature to 375 degrees and continue to bake until golden brown and fairly firm (puffs should not be soft and squishy), 8 to 10 minutes longer. Remove baking sheet from oven. With paring knife, cut 3/4-inch slit into side of each puff to release steam; return puffs to oven, turn off oven, and prop oven door open with handle of wooden spoon. Dry puffs in turned-off oven until centers are just moist (not wet) and puffs are crisp, about 45 minutes. Transfer puffs to wire rack to cool. (Cooled puffs can be stored at room temperature for up to 24 hours or frozen in zipper-lock plastic bag for up to 1 month. Before serving, crisp room temperature puffs in 300-degree oven 5 to 8 minutes, or 8 to 10 minutes for frozen puffs.)
Note: Piping the Paste:
1. Fill the pastry bag with paste, push paste to bottom of bag using hands or bench scraper, and twist top of bag to seal.
2. Pipe paste into 1 1/4- to 1 1/2-inch mounds (2-inch mounds if making gougères) on prepared baking sheet.
3. Use back of teaspoon dipped in water to even out shape and smooth surface of mounds.
Making the Paste:
1. After mixture has come to a boil and pan has been removed from heat, add flour, return pan to low heat, and cook paste for 3 minutes, stirring constantly and using smearing motion.
2. With feed tube open, process paste 10 seconds, then add eggs in steady stream.
PROFITEROLES::
For profiteroles, the smooth, dense texture and rich flavor of a high-quality custard-style ice cream is preferable to the light, fluffy texture and milky flavor of Philadelphia-style ice cream, which is made without eggs. In our September/ October 2001 vanilla ice cream tasting, Edy's Dreamery came out on top. If you're serving several guests, prescooping the ice cream makes serving quick and neat, but if you're assembling only a couple servings or your freezer lacks space, you can skip the prescooping step. Refer to illustrations below when assembling profiteroles.
1. Line baking sheet with parchment paper; freeze until cold, about 20 minutes. Using 2-inch ice cream scoop (about same diameter as puffs), scoop ice cream onto cold baking sheet and freeze until firm, then cover with plastic wrap; keep frozen until ready to serve. (Ice cream can be scooped and frozen for up to 1 week.)
2. When ready to serve, use paring knife to split open puffs about 3/8 inch from bottom; set 3 bottoms on each dessert plate. Place scoop of ice cream on each bottom and gently press tops into ice cream. Pour sauce over profiteroles and serve immediately.
People Who Like This Dish 2

---
Show up here?Review or Bookmark it! ✔
The Cook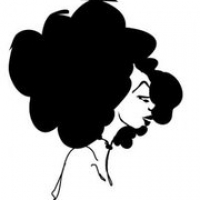 choclytcandy
IN
The Groups
Not added to any groups yet!