How to make it
---
Original Instructions:
Brown meat with garlic and onion. Add jalapenos and finish browning. Strain grease. Add seasonings and tomato products, kidney beans, and water if necessary. Simmer one hour and adjust the seasonings if necessary.
My notes:
A #10 can - a scant 13 cups or up to 14. One source says 12.75 cups that makes me laugh.
Recipe calls for 25 lbs beef or pork, we usually use both. Sausage works, know your spices when adding sausage. You might try Chorizo.
We get the jalapenos in a big bag, fifteen fresh is about 2 cups canned. Usually, a half cup of jalapeno juice goes in when I get the chance. Hey, if you got fresh, you got fresh. Change up your peppers here. In today's market you can find a plethora of possible spicy, hot, savory peppers to change it up, to meet your needs.
One of the joys of using whole tomatoes canned is reaching in and squeezing each peeled tomato between my fingers. You have to find the fun in these things. No one is going to judge. It's just you and the kitchen. In the shop we use these #10 cans of 74-4o Tomato Fillets.
Dark Chili Powder is like a five alarm fire in the rural Minnesota Lake country we find ourselves. To some is mild. However, I have found that people will add the appropriate amount of Sour Cream, Cheese and Crackers to tame down a spicy chili so bring it on. If you are adventurous, make your own Chili Powder. We make paprika, red pepper flakes and smoked salt when we can.
I like to cook away the onions into a caramelized sauce, my boss likes the onions to be there and noticeable. When we are at his restaurant we make it his way. I still throw everything in one pot and let it cook down, I like to start with bacon, then onions and oil if necessary, the pork, then beef and usually take a casual look at the grease realizing there would be little run off and start adding the tomatoes.
If you want to take this somewhere special, try using a bloody mary mix instead of tomato sauce, adjusting whole tomatoes if needed. When camping, the plastic bottle of bloody mary mix can be an easy add to campfire chili.
One hour of simmering is not enough for this beast, but you are safe and good to go, I believe it should cook down into a smoother mush like quality, you already know what you like so make it that way.
Better is over an open fire with a huge kettle and everyone stopping around and helping stir with a canoe paddle. It has happened. Consider a method of indirect heat on such a large outdoor kettle as scorching can occur and that would suck as you have about a hundred dollar invested in time and ingredients by now.
This recipe was a fund raiser saver a few years back, having a chili feed with all the fixings, making this recipe a couple ways, vegetarian, and chicken as options. With all volunteers they more than doubled their funds and helped launch a needed program. When trying to raise funds for a non-profit, make sure there is not someone buying things at the most expensive level when you can find or often have items donated first.
Where did this recipe come from?
While working for the Pioneer Press selling advertising a co-worked said his kid went through the program, great chef, but now his kid was off selling shoes, and he handed me a thirty page photocopied and stapled, ear marked pamphlet. Realizing it was Chef Manfred Krug's syllabus it was read cover to cover and continues to be an excellent source of bullet proof mid-western cooking. He has been an instructor in the Culinary Arts Department at Saint Paul College since 1986.
People Who Like This Dish 1

---
Show up here?Review or Bookmark it! ✔
The Cook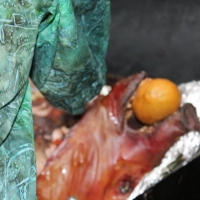 StillSmokin
Lindstrom, MN
The Groups
Not added to any groups yet!