Chicken Vegetable Stew
From
johnlsenn
11 years ago
How to make it
---
NOTES:
The bigger the stock pot the better. If you see your pot isn't going to be big enough, cut back on the veggies.
If you use the whole chicken, you can use the giblets as well and you get white meat also. However, it is more difficult to de-bone. If you use leg quarters, you can buy them in those 10 lb bags and they usually have a lot of fat and skin attached. This gives you a better broth and is easier to de-bone. I also prefer all dark meat in the stew. I like to cook the whole 10 lbs (in my largest stock pot) use the broth, and then after de-boning, use the leftover chicken for either a chicken salad or BBQ chicken.
I prefer the bouillon cubes to the canned broth but either will work. This just helps to strengthen the fresh broth you are making when you boil the chicken.
Keep the frozen veggies in the freezer until you are ready to use. You can also use fresh veggies if you have them.
I prefer the creamed corn in the Chubs and I favor the white corn, but either is fine. You can leave the chub of corn out while the chicken is cooking, that way it can defrost and will distribute in the stew a little better.
The idea is to make a good stock (broth) first. Take out the chicken, let it cool. Cook the vegetables in the stock. While the veggies are cooking, debone the chicken and shred. If you cut back on the veggies, you can make less, but you will need to keep the stock the same strength. Also, the more veggies you put in, the thicker it becomes (stew) and you will need to take care to keep it stirred and cook on a lower heat to keep from scorching on the bottom. I prefer stew instead of adding more water for soup.
Add water as needed all along, better too much than too little. The water will eventually cook out, but if it is too thick, it is more likely to scorch on the bottom if you accidentally get it too hot.
From past experience, do not substitute spaghetti sauce for the tomato sauces. It doesn't work like you'd think it would.
Cooking:
Fill stock pot half full of water. Bring to a boil on high.
Add about 2 tablespoons of salt and a 1/2 tablespoon of black pepper.
Add ½ of an onion, chopped coarsely.
Add 2 tablespoons of vegetable oil.
Add 1 clove of garlic, finely chopped or a tablespoon of minced garlic (don't overdo the garlic).
Add three cubes of chicken bouillon, or 1 can chicken broth. You can actually skip this step, but I like a good strong stock.
After a full boil, put in the chicken. Fat, skin and all. (If using the whole chicken, make sure you have taken the giblets out of the cavity.) Make sure the water covers the chicken, if not, add more. Once the water has returned to a full boil, cut the heat back to a medium-high. Lift the chicken off the bottom of the pot to keep it from sticking on the bottom. If it sticks now, reduce the heat even more. If you don't, it will cause scorching later and ruin the taste of the stew. Also, watch for boil overs. This will pass after a few minutes, but a boil over with the cooking oil in the water can cause a flame up.
Keep reducing the heat until you get the chicken to a steady rolling boil, usually low- medium heat.
Cook Chicken for an hour. You can put a lid on the pot, but you will need to reduce the heat even more to watch for boil overs.
Take a break…whew!
Remove the chicken, place in a large bowl and put somewhere to cool. I usually put it in the refrigerator or freezer so it will cool faster.
At this point, I taste the stock to see if I think it has enough salt, pepper or is thick enough. It's all preference here. If it needs it, I add it. But salt and pepper can always be added later, so better too little than too much. Also, if it is getting too thick, add water as needed.
Increase the heat to a medium high.
Add 2 large cans of stewed tomatoes.
Add the other 1 ½ medium onions (kinda larger pieces…just not too chopped up).
Cook for about 15 minutes. Make sure you have a good rolling boil, because when you add all the frozen veggies, it will bring the heat down immediately.
Start adding the veggies. I start with the 16 oz bag of mixed veggies (peas and carrots). Let it get back to a boil. Stir it a little.
Add 1 - 16 oz bag of small lima beans. Let it get back to a boil. Stir it a little.
Add 1 - 16oz bag of whole (or cut) okra. Let it get back to a boil. Stir it a little.
Add 1 chub of creamed corn (white or yellow) or 1 can of creamed corn. Let it get back to a boil. Stir it a little.
Add 1 can of whole kernel corn. Let it get back to a boil. Stir it a little
Add 1 - 16 oz bag of Italian cut (or regular) green beans. Let it get back to a boil. Stir it a little.
Add 2 large cans tomato paste.
Add 2 large cans tomato sauce.
Add deboned chicken (as much as you want).
Cook covered on a low heat for about an hour. Keep stirred all along mainly to keep from scorching on the bottom.
This seems like a lot of work, but it really isn't that bad. I usually debone the cooled chicken while I'm waiting for the veggies to get to a boil. The main thing to keep in mind is not to try to cook in on too high of a heat and to stir to the bottom. Once the veggies are in the pot, it will get pretty thick and you will have to stir more often.
People Who Like This Dish 2

---
Show up here?Review or Bookmark it! ✔
The Cook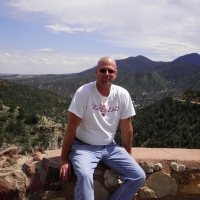 johnlsenn
Florence, AZ
The Groups
Not added to any groups yet!