~ On The Wing ~
From
22566
6 years ago
How to make it
---
Had some thyme on my hands...so,what the heck!
It was 1870...back then being a lawman was solid,steady,work...got married to his sweetheart but lost her to a cruel painful death.
Her passing had this once quiet friendly gent carrying a sidearm before all beer and skittles...it changed him for the better,maybe...for the worst,maybe...just depends on whose spinning the saga.Reckon something like that could possibly change someone overnight to a cold,mustached,blue-eyed,gaunt gunfighter of a lawman.
Keeping in mind before then he could barely hit the broad side of the barn with the door shut with a six shooter side arm
Not wanting a reminder of his wife's death he left that one horse town,bought himself a blue lightnin' and trusty Winchester and headed for Indian territory,which is now Oklahoma.
He was set deadpan purposeful to take the wings of a gnat with that rifle and revolver,practicing every spare minute that he could while working for a Goverment Surveying Crew.He would spend hours and hours dry firing with his arm out stretched training it not to shake even a frogs hair.
His test came one day...Kansas,in the form of a 40 man kill gunfighter by the name of Ben.One slick dresser of a gunslinger with a white collar and a cape flapping in the dusty wind and a fancy tapestry vest with a ditty...a which-i-ma-call-it...a gold chain attached to a pocket watch tucked safely away only to be drawn out to check if it was time for a good strong whiskey.
Being thought an undesirable and some say rightfully so,was told to leave town by the Sheriff...now Ben being a mean one and a guy among the willow and belly through the bush,put two buckshot loads into the Sheriff's chest in broad daylight.He reared his head back with a bellow saying,"I would a likin' to see any of you shorthorns to try and take me in irons."
Now Wyatt and the Mayor witnessed the killing,and as the mayor stood there with a brain table in his mouth and making spirals of smoke in the air of that day.Wyatt patted his pocket where he kept is own prayer book of papers and was thinking he sure could use a smoke about then...Even thou Wyatt had noting against Ben,he did however have a bobbery against just what happen...he wasn't afeared and thinking ole' Ben couldn't be that big of nut to crack.Wyatt told the Mayor if he would lend him his two.45 Colts that he would be obliged to still Ben down so as not to cause hurt to anyone else.Wyatt was supplied with the guns and leather tooled holsters.He then heeled-toed it over and called Ben out with argufy to put his shotgun to the ground...ary he'd kill him and put his sorry carcass in the bone orchard.Ben complied right away,tellin' after,that even thou the didn't know this stranger that he had an itching hunch if he didn't lay his firearms down that he would be measured for the undertaker.
Sure and shootin' by making the famous Ben Thompson step down and back away caused Wyatt to be the biggest toad in the puddle overnight.The word spread like wildfire that Wyatt euchered Ben.
Wyatt took the Marshall position in Dodge City in the year of 1876.Wyatt had his bub's,Virgil and Morgan,plus his pal John Henry 'Doc' Holliday come and join him later.
He bought the 'Oriental' saloon for the bucking the tiger and serving bumlebee whiskey with a sting having Masterson and Short deal-monte for him in the Tombstone establishment.
Now...back in the old west you did'nt cause harm to friend of family,not Wyatt's anyway...cause when Stillwell killed Brother Morgan,Wyatt located him and as Stillwell saw him his feet froze,he couldn't move and inch...keeping in mind...rules were different back then with a biff,Wyatt put the shotgun to Stillwells heart,pulling the trigger twice.
There was this Dime Store novel writer that gave Wyatt a Colt.45 with a 12 inch barrel.He learned to be quite perficient with that as well.
Wyatt had an awful empty lonesomeness about him and had a hankerin' to get away from it all,he took the air line road at times and sometimes he forked and burned the breeze to a couple different territories...ending up in Alaska only to turn around and go back again.
No one could say that he didn't have a tail feather left,for he died a very wealthly man of 84 years.
What's this got to do with Doves?
Nothin'...Except after his first wife's death the only thing Wyatt enjoyed was good food.He took to cooking wild game like he went about learning how to shot...Continual hard practice!
He liked and enjoyed a good breakfast...It consisted of a half inch thick slice of beef or buffalo,eye of a rib steak,thinly sliced onions on top and all put between two slices of buttered bread with the butter well sprinkled with salt and served with two fried eggs,fried on both sides.
Doves are the most difficult wing shot of all.
Long Tale Short...Here's the Dove!
People Who Like This Dish 2

---
Show up here?Review or Bookmark it! ✔
The Cook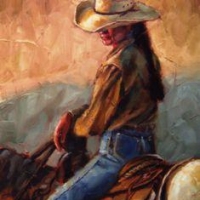 22566
TX
The Groups
Not added to any groups yet!