~ If It's Homemade ~
From
22566
4 years ago
How to make it
---
Biscuits are nothing more then butter,milk,salt,baking powder and flour.A soft touch,some heat,and your ready to eat.
An ideal biscuit would be fluffy,light,airy and flaky,with an outer crust giving into a satisfying bite.
~but~
If one wishes to achieve the perfect biscuit,then one needs to know the right technique.
One flour...not a very satisfying biscuit...but couple plain everyday flour with cake flour...now we're talking fluffy and light,with a nice bite...sure,you could use all,all purpose flour,but the outer crust will be drier,and not have an airiness about it.
Mate the all purpose to the cake flour and you will have a pleasant,free,airy,and light interior with a dang good satisfying bite to the exterior.
I don't care for sifters all that much...because I usually end up with more flour on me,the surrounding counter top,floor,and my inquisitive dog,'Quigley'.I have a pretty niffty stainless steel strainer that does a mighty fine job of the matter.
Whence you add the buttermilk,refrain from over working it much...or,you will render it tough...Tough is good,but,not in a biscuit!
~so~
When you introduce the dry to the wet you just want them to get to know one another and combine and intertwine slightly.You don't want to whip the bejeezus out of it.
Now...you need to decide to roll or pat.
Remembering the more you work it...the more tougher it will become.
If you choose to roll it,and cut it with a biscuit cutter then you will invariably end up with pieces here and there to be worked and rolled again into a biscuit,and you will find that the more you handle it,the tougher it will get and the very last biscuit will be a very strange bed fellow indeed...without the benefit of a light and airy pillow.
Now petting and patting is not as pretty...but it sure makes for a better biscuit!
I like the meeting of butter and lard...and undoubtedly this is a nice cohabitation...but,the long and short of the two is that the biscuits made from them will not keep as long as those made with shortening.
But if you do this just right,the biscuits with be devoured in no time flat.
~so~
In given a choice...Butter is Better!
For best results...Chill Out...that means everything that goes into making a biscuit,and that includes the vessel that you make it in.
Colder the butter,the better the biscuit...This is one time you really want to favor a flaky.
If you are fast with you hands then by al means rub the butter in...but,if you have hot hands,and are not extremely skilled...forget it! You will just warm up the butter,and this will not allow for the biscuit to mature and turn out like it should.
A food processor given into a few short pulses rates of say,ten or twelve,are good and fast...but,I personally like the hands on method...It's therapeutical :o)
With the tangy betterment of buttermilk,and a few added nice idees,such as cheese,herbs,ect.ect.
Address the heat...a very hot,four hundred and fifty degree oven and bake on ungreased baking sheet for about twelve to fifteen minutes until blushed in color.
One could sink their teeth into a pretty tasty meet,with a smile edging their cheek...Ah! Homemade!
However you approach it...be it delicate,or,daring...tear into it...sandwich it,top it,or plop it...It all sits pretty dang good!
People Who Like This Dish 1

---
Show up here?Review or Bookmark it! ✔
The Cook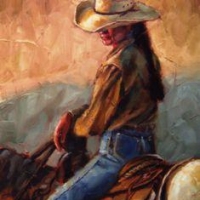 22566
TX
The Groups
Not added to any groups yet!