How to make it
---
In a large bowl, mix together the peanut butter, butter, vanilla and confectioners' sugar.
The dough will look dry.
Roll into 1 inch balls and place on a waxed paper-lined cookie sheet.
Press a toothpick into the top of each ball (to be used later as the handle for dipping) and chill in freezer until firm, about 30 minutes.
Melt chocolate chips in a double boiler or in a bowl set over a pan of barely simmering water.
Stir frequently until smooth.
Dip frozen peanut butter balls in chocolate holding onto the toothpick. Leave a small portion of peanut butter showing at the top to make them look like Buckeyes.
Put back on the cookie sheet and refrigerate until serving.
~ ~ ~ ~ ~ ~ ~ ~
A few other techniques that have helped others; you may wish to use one or more of these ideas. I add them here for your info, NOT as a must follow thing:
*Chill the peanut butter mixture in the fridge 30 minutes before making the balls - this will help make a smoother, rounder buckeye.
*Refrigerate the dough before rolling out the balls
*Also, melt more chocolate than the recipe calls for so you have a good pool of chocolate to dip the ball into (you'll throw chocolate away, but it will make the product look better).
*use real butter (well, duh! lol!)
*You can use one of those mini crock pots, dedicated to just chocolate melting, to melt the chocolate in. Keep it on low, the chocolate stays warm and when done you just put the lid on it and wait until you need it again.
*DON'T take the balls out of the freezer until RIGHT before you are about to dip them. They will start to sweat after being out for a few minutes and this will keep the chocolate from sticking.
*Definitely cut the sugar and sift it.
*Add a tablespoon or two of shortening to the chocolate to help it stay a little firmer at room temperature; use semi-sweet chocolate as specified(I used a blend of milk choc and semi-sweet and it was too sweet).
*Add some parafin wax to the melted chocolate. The wax will thin out the chocolate and make it easier to dip. Plus, you won't use so much chocolate...this is especially helpful if you are making a double or triple batch like I do every year
*Rolling the balls was very sticky, so I put powdered sugar on a paper plate and dipped both palms in after rolling each ball and it worked wonders; balls came out smooth.
*Use an ice cream scoop to get a scoop of chocolate and then dip the balls in that. The ice cream scoop gets enough chocolate in it to make 3-4 small buckeyes and if it falls off the toothpick, it's not falling far! It also helps to get a full, nice covering of chocolate instead of having to roll around the ball to get the top partially covered. Then, you can use a shallower bowl instead of something too deep for the chocolate.
*It works a lot better to cream the butter and p-nut butter together first and then add the sugar gradually. You need a dry dough, but if you just dump & stir as the recipe says it will be way too dry and the butter won't distribute correctly.
* I don't recommend putting a tooth pick in every single one before chilling them. In fact, it works better NOT to because as the peanut butter cools it will pull away from the toothpick. I used ONE toothpick for my entire batch AFTER they chilled.
*Cut the butter down to 1/4 cup (it really doesn't need butter at all to be delicious).
*Take 5 balls out of the freezer at a time to dip in the melted mixture. You will get the hang of it after awhile. There is def an art to dipping!
*I used 1.5 bags of 12 ounce chips with a 1/2 4oz bar of shaved parafin wax. Melt well. Paraffin wax is GREAT!
*if you have choc left don't throw it out mix some cashews,or other nuts in the choc set on wax paper and let it harden ,then you have choc covered peanuts w/maybe a hint of peanut butter taste choc to expensive to throw out
*Add a bit of shortening to the chocolate to give it a shine.
* 3 cups sugar to 1 1/2 peanut butter are so much easier
*chocolate bark to coat
*add rice krispies
*Use paraffin wax in your chocolate and whaala! It sticks!
*dark chocolate is great too..You can also drizzle melted peanut butter chips on top or roll them into crushed peanuts. Make them in the gold 1 inch foil holders and place in some tins..they make great gifts to neighbors, friends, etc..
*added 2 T shortening to chocolate and it coated nicely. I will do this from now on because I disliked other recipes that used paraffin wax
*They're great frozen, and they last forever since they're so tasty and sweet it only takes a few to be satisfied.
*don't freeze them either, just refrigerate until very firm. Freezing causes them to sweat.
*MAIN THING: Close the toothpick hole!!! I hate to see them with the toothpick hole. Real buckeyes don't have a hole in the middle (unless it's got worms! LOL!)
*altered the chocolate coating and used half milk and half semi-sweet chocolate chips and added about 2 tbls of butter and some heavy cream...at first my coating totally started to seize and I thought I'd wasted at on of ingredients, but I just added some regular milk and it smoothed out
*Use a 1 Tblsp. cookie scoop and did level sized scoops. I didn't bother to roll them, because I figured with the flat bottoms they would stand up better on the plate anyway.
*Two suggestions that I will try the next time I make these. #1 - substitute 1 cup unsweetened cocoa for 1 cup confectioners sugar & # 2 use unsweetened or perhaps bitter chocolate to coat these. If using bitter chocolate, let chocolate set & then sprinkle with icing sugar. This will make them look pretty too.
*make sure your dough is cold, very cold or will be sticky when balling...use fruit baller to roll out even balls.
People Who Like This Dish 2

---
Show up here?Review or Bookmark it! ✔
The Cook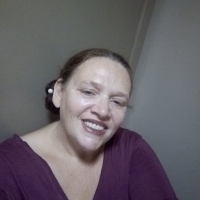 tuilelaith
Columbia, MO
The Groups
Not added to any groups yet!