How to make it
---
Preheat indoor/outdoor grill. Brush with olive oil.
Drizzle olive oil over asparagus & sprinkle with salt & pepper. Grill for about 4 minutes on each side. Set aside to cool.
Preheat oven to 350F.
Let pie shell thaw for ten minutes if frozen. Score the bottom of the shell with a fork. Cook in oven for 5 minute. In order to retain its shape, I transferred my shell to a glass pie dish and put the aluminum pan inside of it as a liner. Remove & let cool.
Drizzle a bit of olive oil into a saute pan, add diced bacon and cook under low-medium heat. Stir often. Remove just when browned into a small bowl lined with paper towel.
Add diced onion to saute pan with bacon grease and cook at low-medium heat until caramelized. Remove and transfer into small bowl lined with paper towel.
Add sliced mushrooms to remaining bacon grease and cook on low for about two minutes. Remove and transfer into small bowl lined with paper towel.
In a mixing bowl, add eggs & whisk thoroughly. Add cream and whisk until combined well.
In another mixing bowl, add shredded cheese, flour and garlic powder. Stir until cheese is well coated.
Reserve several whole stalks of asparagus. Or, you may cut them in half, reserving the top half for the top of the quiche. Dice the remaining asparagus.
Add cooked vegetables and bacon to cream & egg mixture.
Pour cheese mixture into bottom of pie crust. Over that, pour egg mixture. Sprinkle scallions over evenly. Arrange whole/halved asparagus over the top in any pattern that suits you. Sprinkle nutmeg over top.
Put in oven and bake for about 45 minutes or until a toothpick comes out clean.
The Cook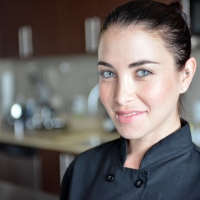 DetroitTokyo
Detroit, MI
The Groups
Not added to any groups yet!