How to make it
---
1. Prep the veggies. You are not going to mix these so put each item on its own plate, for the moment.
2. Prep the shrimp, if using.
3. Slice the meat, if you didn't have the butcher do it.
4. You can wrap all of these and keep them in the fridge a while, if you do them ahead of time.
5. About 45 minutes before you're ready to sit down & eat, put about 2 quarts of cold water in your pot.
6. Add the Kombu, cover and let stand for 30 - 45 minutes. While the Kombu soaks it's time to divide your meat and veggies into 4 equal portions See Photo. This is so half the people don't have to reach around the table to get what they want to swish next.
7. After 30, or so, minutes, turn on the pot and let it start to heat See Photo. When the broth is just about to simmer take out the Kombu. If you boil the Kombu the broth will be strong.
8. When the broth starts to simmer you're ready to shabu shabu. See Photo
9. Swish the meat, tofu and veggies around in the broth until just cooked. See Photo
10. Dip in the sauce of your choice and enjoy.
11. Add hot water as needed to maintain about 2 quarts of liquid in the pot.
12. When all the meat and veggies are gone add the noodles to the pot and allow to simmer a few minutes. See Photo
13. Ladle the resulting noodle soup into bowls and enjoy.
You have, of course, created a rich & tasty soup, while cooking all the meat and veggies and the noodle soup at the end will be delicious.
****Dipping Sauces:
 Light soy sauce & ginger. Infuse a light soy sauce, like Kikkoman, with fresh ginger to taste.
 Light soy & chile sauce. Mix light soy sauce and sweet chile sauce together, to taste.
 Fancy: 1/3 cup white sesame seeds, 3 Tbsp mirin, 1 1/2 Tbsp sugar, 2 Tbsp rice vinegar, 3 1/2 Tbsp soy sauce, 1/2 tsp grated garlic, 1/2 - 2/3 cup dashi soup.
I usually start this meal with some pickled veggies and a bit of sashimi or, if I'm feeling energetic, Sushi See Photo. You can probably buy Sushi but I have to make it. Also, if I'm sitting down to a Japanese feed that little bowl of steamed rice has to be there and at least one jug of Saki is a must. See Photo
Looking at this it seems a lot more complicated than it is. It's really a simple dish. I tried to dot all the i's & cross all the t's so the directions are verbose. You slice some veggies and some steak, swish them around in some broth and eat them. How hard is that?
People Who Like This Dish 3

---
Show up here?Review or Bookmark it! ✔
The Cook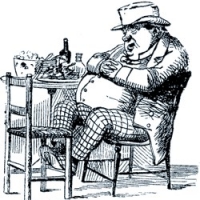 elgourmand
Apia, WS