Sourdough Starter For Beginners
From
warsawnan
7 years ago
How to make it
---
HISTORY OF SOURDOUGH

---

Yeasts are very common microorganisms living all around us. Archaeologists claim that leavened bread probably happened quite accidentally some 4,000 years ago when "wild" yeast fell upon doughs meant for unleavened flatbreads causing it to ferment and rise.
Sourdough bread became forever linked to San Francisco after the California gold rush when prospectors leaving the area carried their prized sourdough starter with them to all parts of the country.

WHAT IS A SOURDOUGH STARTER?

---

A starter is simply a self-perpetuating wild yeast mixture which, with minimal care, can be maintained and used for years. As yeast grows in the starter, it gives off carbon dioxide gas, producing bubbles, which causes the dough to rise. This ongoing fermentation process gives it the delicious sour aroma and tangy flavor. The older the starter, the better the bread!

CREATING A SOURDOUGH STARTER

---

Traditionally sourdough starter was made by mixing flour and water with a cooked potato or fruit such as wine grapes or ripe bananas. Organisms in the flour and the germenting fruit attracted the wild yeast spores in an unpolluted environment, and a starter was easy to begin. Today, this method is not always easy to accomplish due to air pollution, chlorine in water, and pesticide treated flour, fruits and vegetables.
The easiest, and most reliable, way to begin your own sourdough starter today is to get part of a friend's starter or purchase a dehydrated starter. But if you're determined to make one from scratch, here's what you need to do:

SOURDOUGH STARTER RECIPE

---

Wrap the organic grapes, unwashed, in a double layer of cheesecloth. Tie opposite corners of the cheesecloth forming a secure "bag" around the grapes.
In a very clean 1-gallon glass jar, stir together the water and flour with a plastic mixing spoon (or rubber spatula) until well combined. Hold your bundled grapes above this mixture and squeeze so juices drip into the jar. Drop the grape bundle into the jar and stir well, and push the bundle down into the liquid to submerge.
Cover the jar with a double layer of cheesecloth, secured with a rubber band. Keep the jar on your counter at room temperature. By day 2 or 3 the mixture should be forming bubbles.
On day 4 the mixture should smell somewhat alcoholic. Stir in 1 cup of water and 1 cup of flour, replace the cheesecloth cover, and let stand at room temperature.
For the next 5 days (days 5 through 9), feed the starter daily by stirring in 1/2 cup flour and 1/2 cup water. Always replace the cheesecloth cover and keep the jar on your counter at room temperature.
On day 10 remove the grape bundle and squeeze well allowing all the liquids to drip into the jar. (Make sure your hands are VERY clean!). Throw away the grapes. Stir the starter well. Discard all but 2 cups of the starter (or give it to a friend who wants a starter). Stir in 1 cup of flour and 1 cup of water. Cover with the cheesecloth and keep on the counter at room temperature for 5 hours.
Stir in 2-1/2 cups flour and 2 cups water. Cover and let stand at room temperature 5 more hours. Then stir in 5 cups flour and 4 cups water, re-cover and let stand at room temperature for 15 hours.
Repeat the day 10 triple feeding process for the next 4 days, pouring off all but 2 cups before you begin feeding.
On day 15 your starter is ready to use!

MAINTENANCE

---

If properly maintained, a sourdough culture will last a lifetime. Each time you take a portion of the starter for a recipe, replace that amount with equal quantities of water and flour. For example, if you remove 1 cup of starter to use in a recipe, you must replace it with 1 cup of lukewarm water (100F) and 1 cup of unbleached all-purpose flour. Whisk these ingredients into the starter until blended. Cover and leave the starter at room temperature for at least 12 hours or overnight. The starter is now ready to be used again, or can be refrigerated.
Use a 2-quart non-metal crock or bowl to store the starter. I keep mine in a covered Tupperware container.
Maintain the starter by stirring it at least once a week. This invigorates the yeast and expels some of the alcohol. If you do not use the starter every two weeks or so, refresh it by removing 1 cup of the starter (give it to a friend or discard it), and adding 1 cup of unbleached all-purpose flour and 1 cup of lukewarm (100F) water. Whisk until blended. Cover and leave at room temperature 12 hours or overnight before returning it to the refrigerator.
If you plan to be away or know you will not use the starter frequently, freeze it in a sterilized, air-tight freezer container. Thaw the starter two days before you plan on baking with it, transferring it to a 2 quart non-metal storage container. Refresh the starter with 1 cup each of water and flour. Cover and leave at room temperature for 12 hours or overnight before using.
If the liquid at the top of your stored starter has turned dark, you may still use it. You may want to pour some of it off the top before you use it in your recipe depending on how 'sour' you wish your recipe to be. If the starter turns pink or orange, bad bacteria has invaded your starter. Discard immediately!

DEHYDRATING SOURDOUGH STARTER

---

Rather than throwing out excess starter during the feeding process, which seems like such a waste, I dehydrate mine for long-term storage. It's really easy to do, and dehydrated starter can be stored (in an air-tight container) at room temperature.
With a silicone basting brush, or brand new paint/basting brush, spread a very thing layer of sourdough starter on the plastic sheet that comes with the dehydrator. (SEE PHOTOS) Dehydrate until completely dry. If you don't own a dehydrator, you can do this in your oven, set to warm, on a cookie sheet.
To rehydrate your dried starter:
Soak 1/2 teaspoon of the dried starter in 1 tablespoon of lukewarm purified water for a few minutes to soften. Stir in 1 tablespoon of all-purpose flour, cover and let sit at room temperature for 24 hours stirring again once or twice during this 24 hours.
Stir in another tablespoon of flour and purified water. After 48 hours you should be seeing some bubbles.
Continue with twice daily feedings of 1 tablespoon flour and water. After a few days your starter is good to go.
People Who Like This Dish 4

---
Show up here?Review or Bookmark it! ✔
The Cook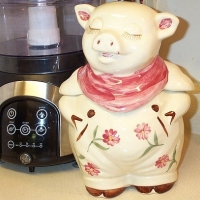 warsawnan
Warsaw, IN