How to make it
---
Cook Rice according to your rice cooker's directions (usually for brown rice, 2 cups of rice + 4 cups of water yield 4 servings of cooked rice.)
Prep Ingredients:
Measure out spices, set aside. Mince garlic, set aside. Chop Cilantro, set aside. Open the small can of crushed pineapple, discard juice.
Open the small can of pineapple chunks, pour juice in a bowl.
Mix together the pineapple juice, spices, and teriyaki sauce, stir, and set aside.
Once the rice is done cooking (leave in cooker to keep it warm, you will need it shortly)…
Toast the coconut flakes light brown and set aside. Get the Wok ready, by placing it on a medium heat burner. Place the crushed pineapple chunks and the Serrano pepper into the Wok, and begin cooking.
Once the above is heated through, add the garlic and chopped cilantro. Once the cilantro wilts, add all of the rice, and pineapple chunks. Stir the hell out of this mixture in the wok, add the pineapple juice and spices mixture and stir stir stir, you want everything coated and heated through. Add ½ of the toasted coconut and all of the raw cashews. Stir a bit more so everything is heated through.
Once cooked to your liking, remove from heat and discard the Serrano pepper that's been cooking with the rice. Top with the rest of the toasted coconut.
Luisa's Notes:
- I just cooked my jasmine brown rice on the stovetop per package instructions. I also cooked my rice earlier in the day and let it cool, kept it in the fridge until ready to use later.
- I toasted the cashews along with the coconut.
- I used all fresh pineapple (for the crushed pineapple I slightly pureed some fresh pineapple chunks with a hand blender).
- I used a non-stick skillet, not a wok.
People Who Like This Dish 10

---
The Cook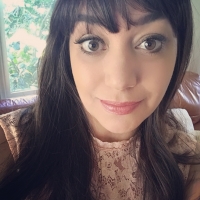 luisascatering
Burlingame, CA