How to make it
---
Wait to make this recipe until you have accumulated a ½ cup of bacon squeezings from your normal kitchen routine. Or render down a slab of bacon until crisp. Drain bacon on paper towels; crumble and reserve for another use. Divide out the bacon squeezings into half cup measures; cool; refrigerate.
Put bacon squeezing in freezer for 2 hours or overnight to let it firm up. It will be the consistency of hard cold butter straight from the refrigerator.
Combine buttermilk and egg with a whisk. Keep in refrigerator until ready to use.
Position the rack in the middle of the oven and preheat it to 450*F.
Combine all dry ingredients in a bowl with a whisk, then sift.
Cut bacon squeezing into less than 1" cubes; put 2/3 of the cut bacon squeezing back into the freezer temporarily; cut in 1/3 of the bacon squeezing into the dry ingredients with a pastry blender to form a fine meal; cut the remaining 2/3 bacon squeezing into the dry ingredients to form a coarse meal just under pea size.
Gradually but quickly fluff in the wet ingredients to the dry ingredients, saving enough to brush the top of the biscuits. Use enough egg mixture so the dough will not crumble when pinched and not be wet.
Working quickly bring the dough together in a ball on a lightly floured work surface with floured hands. Knead the dough 8 to 12 times to bring the dough together well; pat the dough out to ¾ to 1 inch thick.
Dust a baking sheet with cornmeal. This will keep the biscuits from sticking to the sheet.
Cut out, straight down, do not twist, with a (2.5" to 3") sharp edged floured biscuit cutter cut as many biscuits as you can at one time. Place the biscuits upside down on the baking sheet close together. This will keep the biscuits from spreading out and force them to grow taller instead.
Pile the dough scraps on top of each other and pat down again. Cut more biscuits and transfer to the baking sheet in the same manner.
Brush off any excess flour then brush on remaining buttermilk/egg mixture to the tops of the biscuits. Do not let the mixture run down the sides of the biscuits as it will hinder them from raising.
Bake for 12 to 15 minutes to a light golden brown. Do not over bake.
People Who Like This Dish 5

---
The Cook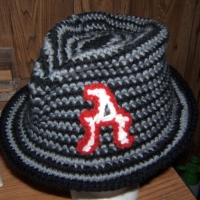 pointsevenout
Athens, AL
The Groups