Carne Asada With Rojas And Guacamole
From
bondc
13 years ago
How to make it
---
Carne asada:
Mix the marinade. Juice the orange and the limes into a bowl. Add the minced onion and peppers, salt, oregano, and black pepper. Put the beef into a sealable bag, add the marinade, suck out all the excess air and seal, and marinate for at least an hour, BUT NO MORE THAN FOUR HOURS!
Remove from the marinade, and grill over a very hot flame until medium rare at most. Remove and let sit for at least a half hour, then slice thinly across the grain.
Rojas:
This is easier on a grill or a gas stove. Roast the peppers directly over the heat, turning them from time to time, until they are charred (black) all over. Remove to a paper bag, close the bag tightly, and let them sweat for twenty minutes or so. Rub off the charred skin under running water (there's no reason to worry about getting it all, and in fact, some adds to the flavor), stem, seed, and slice thinly. Peel and halve the onion, then slice into thin semi-circular slices, and separate the layers. Heat about 2 T. lard or oil in a skillet until quite hot, then add the onions, turn the heat down to medium, and stirring frequently, saute them until they are soft. Add the poblanos, oregano, pepper, and salt, and saute the onions and peppers for about fifteen minutes.
Guajillo puree:
Pour boiling water over the guajillos and soak for 20-30 minutes, until soft. Drain. Stem and seed the guajillos and toss them into the food processor. Turn on high and add the stock (you want a fairly thin puree), scraping the bowl down three or four times. Heat the lard or oil until very hot, then pour in the puree -- it will pop, so stand back. Add the seasonings, turn the heat down to medium high, and stirring constantly, cook until the puree thickens and darkens, and the tannin has been cooked out.
Guacamole:
Finely mince the onion and chilis, then put into a molcajete, mortar and pestle, or medium-sized bowl. Add a 1/2 t. salt, then grind until the onions and peppers are really juicy (this starts to happen almost immediately). Halve the avocados and toss the pit, then scoop out of the skins, add to the molcajete, and mash just enough to get rid of the really huge pieces and blend everything together. Cut the stem end off the tomato, hold it stem side down over the sink, and squeeze all the excess juice (and seeds) out. Finely chop the tomato, and stir it into the guacamole with the cilantro. Make this right before you serve it, so it won't get brown.
Drizzle the carne asada with the guajillo puree, and serve with the rojas, guacamole, tortillas, and if you want, black beans or rice.
People Who Like This Dish 9

---
The Cook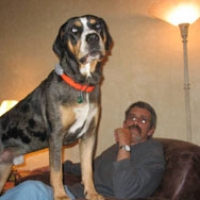 bondc
State College, PA