How To Poach An Egg... Properly
From
rarariver
7 years ago
How to make it
---
Boil the water. Make sure that you have plenty of water in your saucepan - the egg should have lots of room to swim.
While the water is working on its boil, crack the egg into your ramekin. It is important to do this rather than cracking the egg directly into the boiling water, as it will guarantee better results, at least your first few tries.
Now that the water is boiling, turn the heat down to low so that it simmers, and add the vinegar. This is crucial because it helps the egg white to congeal and form that beautiful white outer layer.
With your slotted spoon, stir the water in a circular motion so that it spins.
Take your ramekin, and pour the egg into the centre of the spinning vortex by dipping the lip of the ramekin just below the surface of the water and sliding - not dropping - the egg into the water.
If you are after the most perfect poached egg possible, use a wooden spoon to press the white close to the yolk.
Allow the egg to cook in the boiling water for about ninety seconds.
When it is finished, it should be a nice oval shape and be nice and white on the outside. For firmer eggs, cook longer. You can test the doneness of the egg by removing it from the water with your slotted spoon and pressing on the yolk with your finger. If it's not cooked enough for you, return it to the water.
Remove the egg from the water with the slotted spoon, and serve immediately. Poached eggs cool quickly.
Serve over a buttered and toasted English muffin with some ham or sausage.
Notes:
If you are making several poached eggs, you can just repeat this process over and over using the same water, or you can poach several eggs at the same time. It is more difficult, but not impossible. Simply SKIP the part where you spin the water, and add your eggs. Be sure to nudge the whites closer to the yolks with a wooden spoon, and keep track of which egg went in first - it will also need to come out first. Keep them apart from each other while they cook.
Anyone who tells you vinegar is not necessary is out of their minds. Without it, you will lose much of your egg white.
Make sure the water is NOT boiling at the moment when you add the egg. If it is boiling, the roll of the boil will simply tear up the egg.
If the yolk breaks while in the water, that egg is a lost cause. You can, however, scramble eggs in water - so go ahead and do that, if you like scrambled eggs!
Good luck!
People Who Like This Dish 10

---
The Cook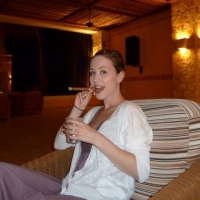 rarariver
Omaha, NE
The Groups
Not added to any groups yet!